Helping struggling families in the Minooka area is a priority for Reclaimed. During the Thanksgiving season, the focus is on helping single moms who are working hard to provide for their families and feed their kids. On November 17, 2021, Reclaimed will distribute 30 Thanksgiving dinner boxes to families in need in the Minooka/Channahon community.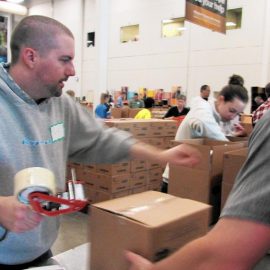 The boxes contain potatoes, stuffing mix, gravy, canned green beans, canned mushroom and chicken soups, fruit, coffee, dessert, and of course, a turkey. Everything comes packed neatly in a box, which is delivered to the families. They just need to unpack the food, cook it, and they will be all set for a delicious home cooked dinner.
Reclaimed partners with Northern Illinois Food Bank and The Village Christian Church on this project to help struggling families in our community.